TNPL 2022: Watch - Dinesh Karthik fans chant his name in front of Murali Vijay to get his attention
Updated: Jul 27, 2022, 16:21 IST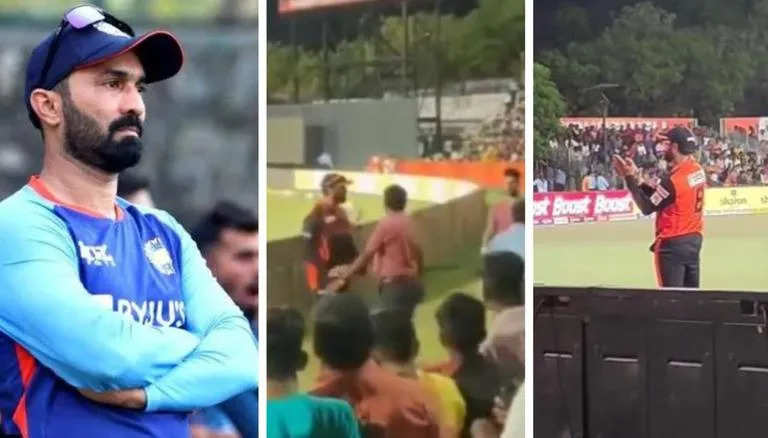 The Tamil Nadu-based cricketers Murali Vijay and Dinesh Karthik were once a regular fixture in the Indian team set-up. Murali Vijay has often been with the side, especially in the longest format of the game whereas Dinesh Karthik has made his comeback after having a great season in the recently concluded Indian Premier League.
Moreover, Murali Vijay has recently caught the headlines after smashing a fabulous hundred for his side Ruby Trichy Warriors against Nellai Royal Kings. In that game, Ruby Trichy Warriors had to chase a mammoth total of 237 runs as Murali Vijay was the lone warrior for his team.
He smashed 121 runs off just 66 balls and his knock included 7 fours and 12 sixes. Besides, during a game in the Tamil Nadu Premier League, fans chanted the name of Dinesh Karthik and Murali Vijay responded with an unexpected gesture at the fans.
I have talked to him a little bit about batting: Allan Border
The former Australian skipper Allan Border has come up with a statement for Travis Head that he has to give more attention to how to play the turning balls.
"He has got to sit down and work out a method better than it is going at the moment, that is for sure. I have talked to him a little bit about batting on spinning wickets," Allan Border was quoted as saying by cricket.com.au.
"He has got to learn how to sweep and sweep well. And he has got to use his feet – people do not seem to be prepared to go down the track, and defend even. There are just a few subtle little things.
He is a very good player against anything other than the turning ball. That is the chink he has got to work on, but it is (play the) sweep shot, use your feet, get on the front foot, and when you are trying to defend, use nice soft hands," said Allan Border.
"Hayden is a great example. You are talking about a kid who batted on the Gabba five games a year, then the WACA … Sydney (the SCG pitch) turned, that was the only place that really (gave you a chance to bat) against a spin bowler," he added.
Watch the video here:
#TNPL2022 DK DK DK ......
Murali Vijay reaction pic.twitter.com/wK8ZJ84351

— Muthu (@muthu_offl) July 7, 2022