"Quite unresponsive": Rahul Dravid on the Kanpur test pitch on the last day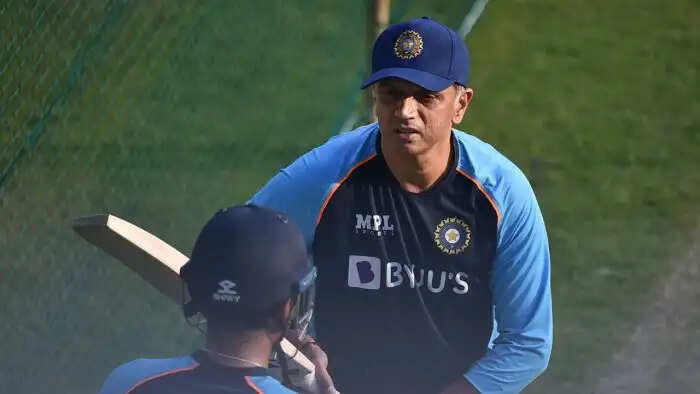 India v New Zealand 1st Test: Rahul Dravid reflected on last day's Kanpur pitch and praised the Indian bowlers for finding a way to take nine New Zealand wickets in the second innings.
 
India head coach Rahul Dravid spoke about the lack of juice on the pitch on matchday five and final, which made it more difficult for the margins to find the outfielders. He described the Day 5 pitch as "fairly unresponsive" and praised his bowlers, especially the weirdos, for putting up a great fight that nearly resulted in a result. "We showed great composure and fighting spirit and worked really hard in this last session. It was a pretty unspeakable pitch on day five and a really good performance to have eight wickets after lunch, three in this session and five in the last Session, "said Dravid in the press conference after the game.
Dravid found it surprising that the pitch of the last day of the game had little to offer in terms of the turn and bruise, as the ball often did not reach the sliding chain.
"It was low and slow and probably didn't have that much bounce or turn. You probably expect a little more wear and tear over the course of five days on day five in Indian conditions - it doesn't seem to have that kind of bite," said Dravid.
Read Here | Ravichandran Ashwin surpasses Harbhajan Singh to become India's third highest wicket taker in Tests
He explained the usual circumstances of how the playing field in India is deteriorating on the last day of a friendly match. According to him, the outer edge was "practically impossible" due to the lack of a jump.
"In general, weirdos in India can challenge both edges on the fifth day - inside and outside. They know you can beat the people on the inside and get LBW. But to be honest, the outside edge was practically impossible in this game, "said Dravid.
Dravid explained how the cracks in the playing fields in India usually widen by the last day and how the winter season may have influenced this phenomenon.
"Normally on the fifth day you should get a little more help and the cracks get a little wider, I don't know, maybe it's winter and that's why (cracks haven't opened)."