Players from Pakistan and Scotland celebrate Haris Rauf's birthday together by cutting the cake after the T20 World Cup
Updated: Nov 26, 2021, 15:40 IST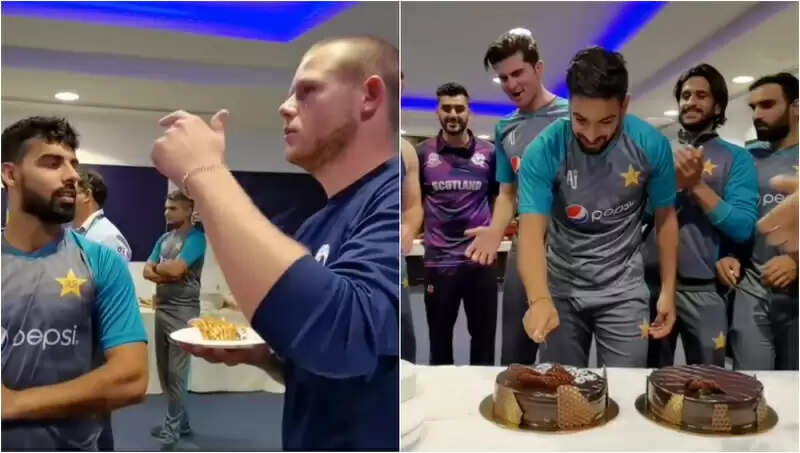 T20 World Cup 2021: Cricket camp in Pakistan invited Scottish players to Haris Rauf's cake cutting ceremony on his 28th birthday after their last Super 12 match at the current T20 World Cup 2021.
 
While Pakistan completely dominated the game against Scotland at Sunday's T20 World Cup, the two teams shared an amazing moment of camaraderie off the pitch. After the two teams' last Super 12 game ended, the teams came together to celebrate the birthday of Pakistani cricketer Haris Rauf, who turned 28 on November 7th.
Recently, Scottish players were interacted with Indian players in their locker room after their loss to the Asian giants.
The video with Indian skipper Virat Kohli and mentor MS Dhoni was seen as the right example to showcase the "spirit of cricket". The mere interaction of these Scottish players with some of the game's best from India and Pakistan was seen as a huge motivational factor and could definitely improve the image of the sport in their country.
Scotland finished last in their group after suffering five defeats in five Super 12 games. The tournament turned out to be a huge disappointment for India as they failed to make it to the semi-finals after suffering a 10-wicket loss to arch-rivals Pakistan.
Pakistan, on the other hand, has taken the tournament by storm, claiming five wins in a row and becoming the first team to qualify for the semi-finals, where they will face Australia.