Pak vs Ban: Abid, Abdullah give tourists a solid start after Hasan's 5-for Tigers limited to 330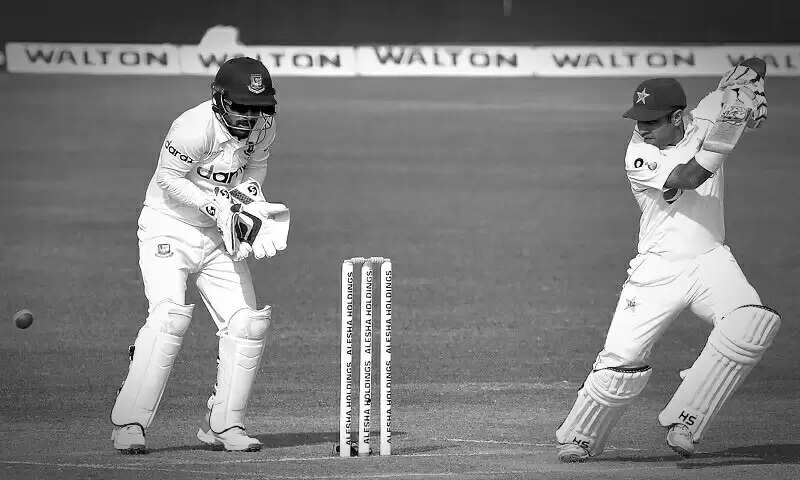 Abid Ali hit an unbeaten 52 as Pakistan made a confident start to their first innings, reaching 79-0 by tee on the second day of the First Test at Chittagong on Saturday. Previously, pace bowler Hasan Ali finished 5:51 when Pakistan beat Bangladesh for 330 runs, while the hosts added 77 runs to their overnight score and continued with 253-4.
Hasan broke Bangladesh's resistance in the first session of the second day when the home side started again 253-4. He took four wickets on Saturday with Bangladesh adding just 77 runs. His sixth five-wicket haul in Tests was complemented by his new ball partner Shaheen Afridi, who was 2-70, and Faheem Ashraf, who was medium-pace (2-54).
For Bangladesh, Liton Das had the best score at 114 after reaching its first century, and Mushfiqur Rahim added 91. Mehidy Hasan was not eliminated at 38. When Bangladesh seemed to be expanding its dominance after a good first day, Hasan gave them a setback in the second round and sacked Liton.
Liton, who started the day at 113, could only add one run before Hasan dropped him leg-before-wicket.
Day one
Das had reached its first century on Matchday 1 of yesterday's game as Bangladesh bounced back from a shaky start to hit 253-4.He and Mushfiqur Rahim combined for an undefeated 204-person partnership after Bangladesh was reduced to 49-4 in the first session.
They kept the Pakistani bowlers in check from the first half of the morning session until all of the second and third sessions. On stumps because of poor light, Liton was 113 and Mushfiqur was 82. The first hour belonged to the Pakistan Fast Bowlers, who took advantage of the early dampness on the pitch.
Opener Saif Hasan hit Hasan in the second run for two borders to indicate a good start for Bangladesh. Opening partner Shadman Islam battled Shaheen Shah Afridi, who moved the ball well, but Saif grew with confidence, driving the pacemaker through for four with his left arm. Afridi broke through with the next delivery when Saif fended off a short delivery on a short leg for 14.
Shadman also fell back to 14 as Ali previously had him on the leg after losing runs in his opening spell. Offspinner Sajid Khan gave the team a big break when he successfully checked to sack captain Mominul Haque for 6. Najmul Shanto followed him and gave a straight catch to the point for 14 when Bangladesh collapsed under pressure.
Liton and Mushfiqur were duly cautious at the start and survived a few tricky moments before dominating. They remained unharmed throughout the middle session, during which they increased their half centuries and met Liton Khan for the lone six of the day.
Read More | Bangladesh's top order collapses in first test against Pakistan
Liton, dropped from the Twenty20 squad after a poor T20 World Cup, hacked left arm spinner Nauman Ali's short throw past the backward point to the limit to hit his half century with 95 balls. With the pitch lacking for the bowlers, Pakistani pacemakers devised a short ball plan that almost worked when Liton missed one of Afridi on 67, but Khan put the catch down at midwicket.
Liton then became more vigilant. Mushfiqur, on the other hand, increased his 24th half century of consecutive limits against the fast bowler Ali with 108 balls. He survived a no-ball from Nauman Ali after sweeping straight to the point. Liton played with caution, reaching his first testing century with 199 balls after pushing Nauman in the middle for a single.
Pakistan took the new ball as soon as it was available for another five overs with no reward. The home side are missing three key players as Shakib Al Hasan and Tamim Iqbal were out due to injury and Mahmudullah, who missed 150 times in Bangladesh's last test against Zimbabwe, was eliminated from the five-day format.Pakistan entered the testing streak after beating Bangladesh in three games in the T20 International series.
The visitors made a test debut for Abdullah Shafique, who has scored in three top-notch games he has played for two centuries.