Mitchell Starc's first ball wicket is fodder for a new Ashes memory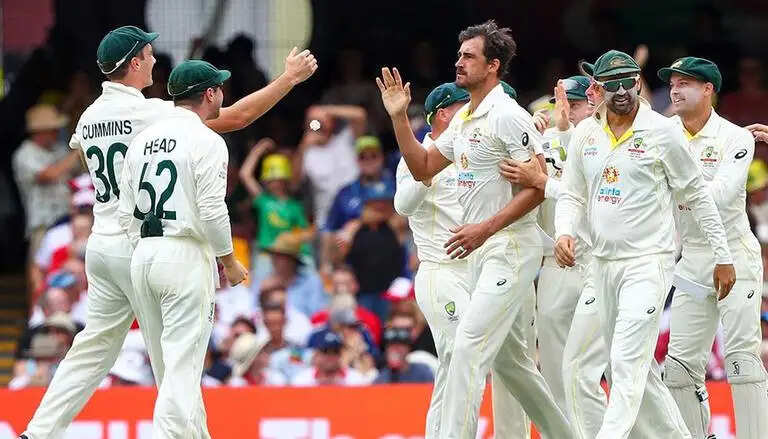 Left-armed pace bowler Mitchell Starc knocked out Rory Burns' stump with a swinging Yorker on the first delivery of the Ashes series on Wednesday
 
When it comes to the folklore of the first ball in the ashes, new Australian captain Pat Cummins thinks it's time that a hit takes precedence over a miss. Left arm pace bowler Mitchell Starc defeated Rory Burns' stump with a swinging york on Wednesday's first delivery of the Ashes series, and England lost their first wicket before scoring a run in the opening test at the gabba.
It kicked off two sessions of dominance from Australia's bowling attack, which saw England sacked for 147 before heavy rain and poor light combined to end the game early on Day 1. Burns' sacking was immediately likened to a fateful first ball moment for Steve Harmison, the English paceman who bowled so far at the Gabba when the series opened in 2006 that he was used in the second slip.
England entered this series in 2005 after a drought-breaking Ashes triumph at home, but gave up the old urn in 2006/07 in a brilliant 5-0 series defeat. On Wednesday, Cummins returned a five-wicket haul in his first innings as Australia's test captain, and his pace bowling partners Starc and Josh Hazlewood each took two wickets.
Instead of focusing on Burns' beating, Cummins praised Starc's influence on the game. "When you think of the first ball in an Ashes streak, it all goes back to Harmison," said Cummins. Hopefully this is the new memory now. Just great, so happy for, "Starc.
"He's got a knack for picking up a wicket in the first couple of overs. He's been pumping for him more than anything. Just excited, a great start. Starc, who picked up an important wicket in the first over of the 2015 Cricket World Cup final in preparation for Australia's win over New Zealand, simply said it was nice to get it in the right place to start the day against England.
"Yes. When it comes to money, I think first," he told Australian cricket broadcaster Channel 7, adding that he was a little lucky. "I'd love to sit here and say I wound it up like that, threw it around his legs, just swing it in. "It's no secret how I attack and aim at those stumps while bowling. A York is a big part of my game, but for me it's about bowling and swinging fast.
Read More | Rory Burns narrowly avoids the second duck when England begins the Brisbane chase
It was the first time since 1936 that a wicket fell on the first ball in the Ashes series Down Under. England were also on the opposite side at Gabba that year, slumping to 20-3 but bouncing back to win that game. England haven't won a Test at Gabba since 1986 and need to recover quickly on day two to avoid extending this route.
Ollie Pope, one of only two English thugs to hit their 30s on Wednesday, assisted England and Burns in the rally.