Many advantages at the ICC U19 Men's Cricket World Cup 2022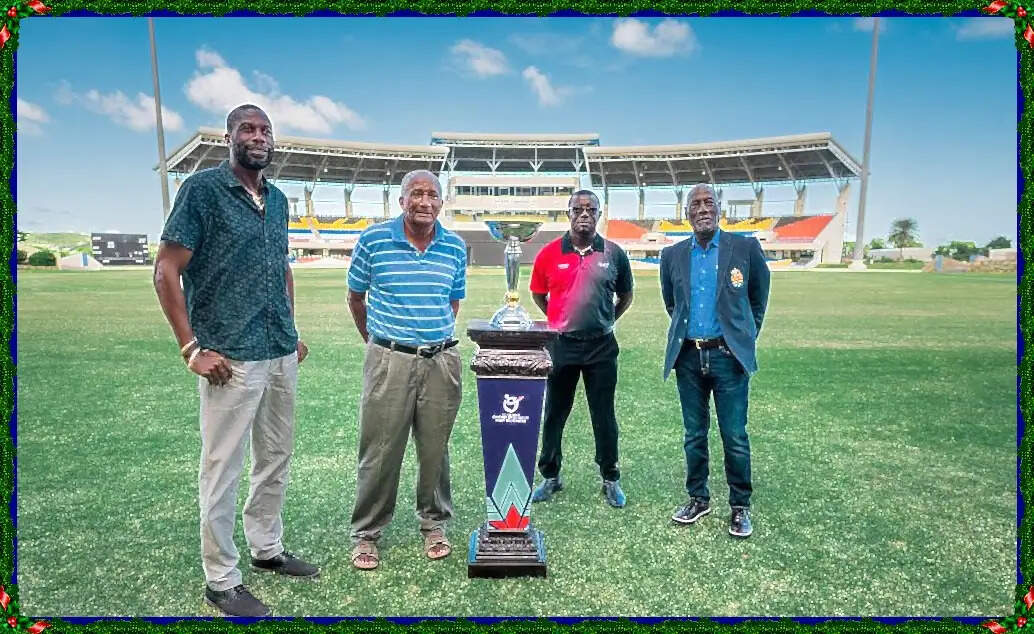 Host countries' investments in the 2022 ICC U19 World Cricket Championship will pay off financially and otherwise in the years to come.
This has been a recurring theme as Tournament Director Fawwaz Baksh and other members of the venue's inspection team traversed the region over the past two weeks to review progress at the four venues. Be it the economic gain from which the four nations - and various service providers - will benefit, or the infrastructural improvement of playing fields, courts and club facilities, the legacy of the event will be very positive.
Reaching out to dignitaries and the media on Monday in announcing the venue at Warner Park, St. Kitts, Baksh noted that hosting the event next month will provide Cricket West Indies (CWI) with more opportunities to host international games.
"This tournament supports CWI's strategic plan to develop facilities across the region. In the end… we will have 21 world class facilities, "he revealed, citing a growing number of sporting events professionals as another positive result of more global events coming to the Caribbean.
The chairman of the local Trinidad and Tobago Organizing Committee for the Men's ICC U19 Cricket World Cup, Douglas Camacho, also focused on this point in his personal remarks, listing new covers, nets, balls and play equipment - as well as construction and renovation the changing rooms and clubhouses - as concrete advantages for community clubs. When the host announced last week at Queen's Park Oval in Trinidad, he said such gains would be important for grassroots organizations that are vital to the development of youth cricket but cannot always afford the modern conveniences it needs.
Read More Here | "It's doubtful you'll see me play for West Indies again in international cricket": Chris Gayle makes a big statement about his future
Camacho delivered the keynote address on behalf of the Minister of Sport and Community Development, the Honorable Shamfa Cudjoe, highlighting the direct economic boost the tournament had brought.
"Many of our industries will benefit from this opportunity through hotel arrangements, transportation, exchanges of goods and services that help build our economies. Although we would have invested an estimated $ 1.8 million, the return is much higher as we anticipate this will add an estimated $ 10 million to our economy, "he said, adding that" there is a lot of media coverage "Also the location of the country will improve tourism destination profile.
Meanwhile, CWI President Ricky Skerritt thanked the host governments for their commitment to delivering on all tournament guarantees despite the troubled financial times sparked by the pandemic.
"I understand how hard it was ... and I want to thank you for your efforts because, amid so many other government priorities, it is not always easy to understand why you would invest thousands of dollars in cricket."
"You're doing it because it's a good investment. Time and again it has been proven that the return on investment is excellent. That's good for tourism. It's good for the development of young talent and good for the economy, "said Skerritt in Warner Park.
Skerritt's comments were welcomed by the Minister for Youth, Sports and Culture of St. Kitts and Nevis, the Honorable Jonel Powell, who stated that "Investing in our facilities (and) in our people ... developing cricketers, the opportunities for all service providers who are required to organize these events and for us to be able to present St. Kitts as a real sports tourism destination ".
The men's ICC U19 Cricket World Cup 2022 will take place from January 14th to February 5th, 2022 in Antigua & Barbuda, Guyana, St. Kitts & Nevis and Trinidad & Tobago with 16 participating nations in 48 games. The West Indies host team will begin their title hunt against Australia at Guyana National Stadium on January 14th, while reigning champions Bangladesh will begin their defense against England on January 16 at Warner Park in St. Kitts.