Here is the semi-final and final schedule for the 2021 T20 World Cup
Updated: Nov 26, 2021, 15:35 IST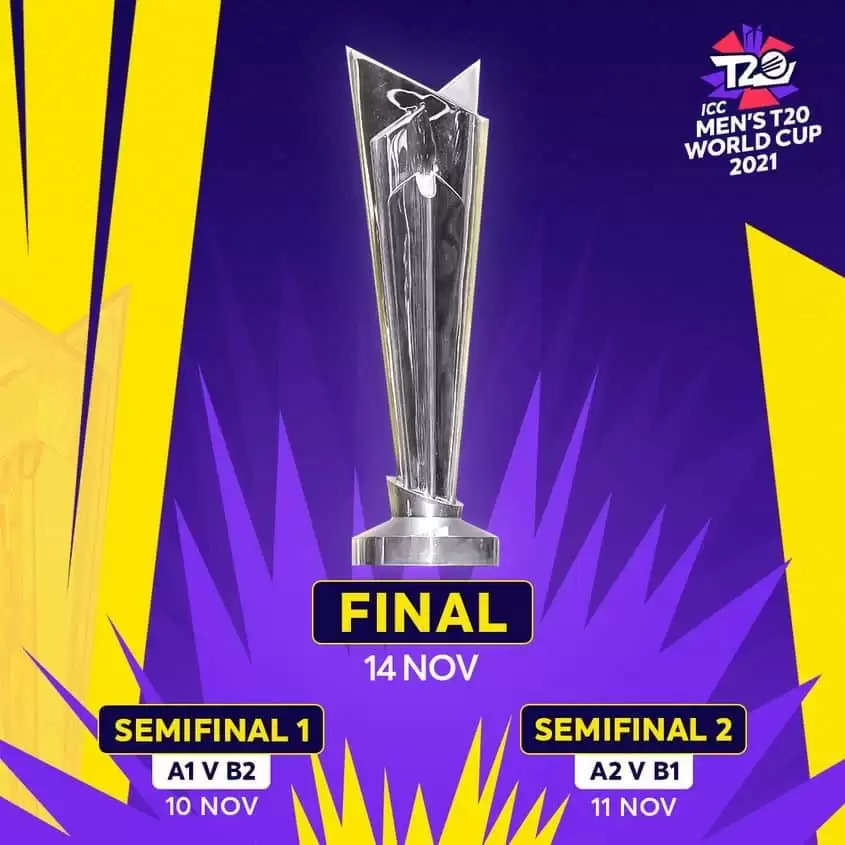 After an exhausting schedule of 41 games over a period of 20 days, the semi-finalists for the T20 World Cup in 2021 have been finalized. The two best teams in each group of the Super 12s phase play in the two knockout games in order to reach the final of the mega-event and have the opportunity to be crowned as T20 world champions.
England and Australia qualified for Group 1 of the Super 12 stage after finishing as the top two teams in the group. Both teams won 4 games each and lost one on the way to the semi-finals. England ended up as group leaders as they had better net run rates than Australia and South Africa. South Africa also ended the campaign with 8 points, but dropped out due to a lower net run rate.
Pakistan and New Zealand are the two teams that qualified from Group 2 of the Super 12 stage. Pakistan is the only team in the tournament with a perfect record, having won all five of their group games. New Zealand, on the other hand, only lost to Pakistan and qualified for the semi-finals ahead of pre-tournament favorites India.
England face New Zealand in a rematch of the 2019 ICC Cricket World Cup in the first semi-finals due to take place in Abu Dhabi on Wednesday. The second semi-final between Pakistan and Australia will be played in Dubai on Thursday. The final of the tournament will be played in Dubai on Sunday, November 14th.
T20 World Cup: How do the teams get into the final?
Both semi-finals have a reserve day if the games cannot be finished on the originally scheduled days. If any of the semi-final matches are drawn, the winner will be determined by super over, and if the super over also ends in stalemate, subsequent super overs will be played until there is a winner. Unless exceptional circumstances arise, an unlimited number of Super Overs will be played to achieve a result.
In the event that the semi-finals end in a draw and the weather conditions prevent the completion of the Super Overs or if the game has to be abandoned or ends without a result, the team in such a case has to qualify first in its Super 12 group for the final.