Faf du Plessis' 'Fazl' tattoo and it's meaning you need to know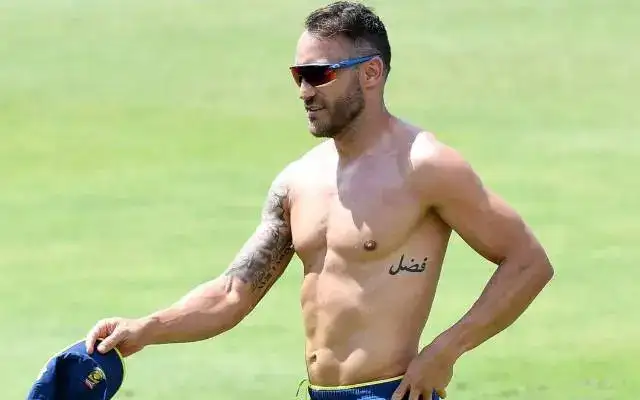 Many of his discerning fans have been unable to interpret the tattoo over his left rib, which reads "," even though the meaning of the majority of them have either been revealed by him or discovered by him.
"He loves to get his kit off, doesn't he? Every second, whenever there was an opportunity to take his shirt off, he'd do it. And fair enough, if you look like that, why wouldn't you?" says Brendon McCullum while describing his former Chennai Super Kings teammate Faf du Plessis.
Faf du Plessis is known for his svelte appearance, sculpted figure, tattooed skin, gelled hair, and swagger. If God had not given him his cunning cricket brain, he may have been a model. However, du Plessis took his appearance as seriously as his performance, and tattoos on his body added to his swag.
He has a lot of those, all of which he uses to tell the many tales from his life. His arm's quarter-sleeve provides a glimpse into significant life experiences. Another reads "Dies a Domino XVII I MMXI" on the side of his arm and represents his Proteas debut at Lord's in England.
He wears a compass on his side that points to the Adelaide Oval, where his team's Test debut will take place. The same one also bears the dates of his wedding and his baptismal day. The Greek word for "unconditional love" "Agape" is directly above that one.
Many of his discerning followers have figured out the meanings of his tattoos, but few have been able to decode the one over his left rib, which reads "" or "Fazl" in Arabic. The word means "grace" and "a believer in the Almighty," respectively. This one is dedicated by du Plessis to the way God's grace changed his life.
Du Plessis is now the captain of the Royal Challengers Bangalore in the Indian Premier League 2023. The 38-year-old has completely turned his attention to franchise-based league cricket after hanging up his Test cricket boots and dropping off South Africa's radar for white-ball cricket.