Abid, Abdullah stable as Pakistan in a strong position to win the first test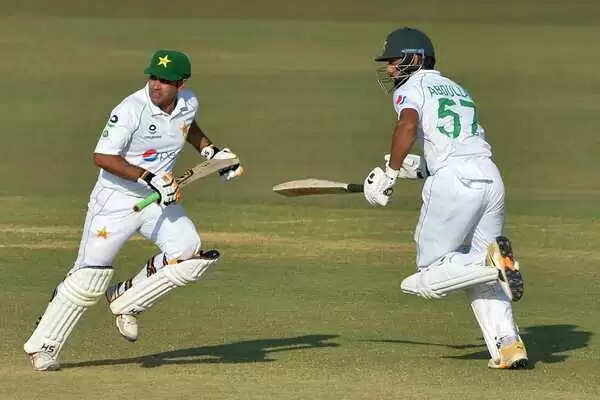 Pakistan is in a strong position to take the lead in the two-game test series as they are only 93 runs away from the 202-run goal in the first Test at Chattogram.
Abid and Abdullah set up an unbeaten 109-run stand on stumps on day four. Both batter scored the fifties.
Previously, Shaheen Afridi claimed a five by giving away just 32 runs while Liton Das fought for half a century to help Bangladesh set a decent goal.
Continuing the day at 39-4, the home side Mushfiqur Rahim lost to Hasan Ali in the first over. First inning centurion Liton Das struggled, scoring 59 of 89 balls.
That joined batsman Yasir Ali overnight to prevent another breakdown. Bangladesh had a decent partnership, but Shaheen's minor jump hit Yasir's helmet, who turned 36 after he turned 36.
Read More | Abid Ali and Abdullah Shafique give Pakistan a solid platform against Bangladesh
Meanwhile, off-spinner Sajid Khan held Mehidy Hasan a leg-up for 11. Yasir's concussion replacement Nurul Hasan didn't survive enough and was caught behind roll call just before lunch.
Shaheen caught Liton leg-ahead and then let Abu Jayed out for a duck to complete his fourth five-wicket test fetch before off-spinner Sajid Khan, who finished at 3:33, put things down by shooting down Taijul Islam finished.
Pakistani openers Abid Ali and Abdullah Shafique got off to another brilliant start and reached 38 at Tea. After the break, they continued their hard work and finished the race 109/0.
Abid hit fifty for the second time in the Games and his Test batting average has risen above 50. It has the highest average of any Pakistan opening game with 1,000 test runs.
Abdullah also hit the second fifty of the game, striking with a better stroke that innings. Abid and Abdullah are 56 and 53 years old, respectively.