Twitter goes crazy after watching Kieron Pollard hilariously waves the ball to reach the boundary line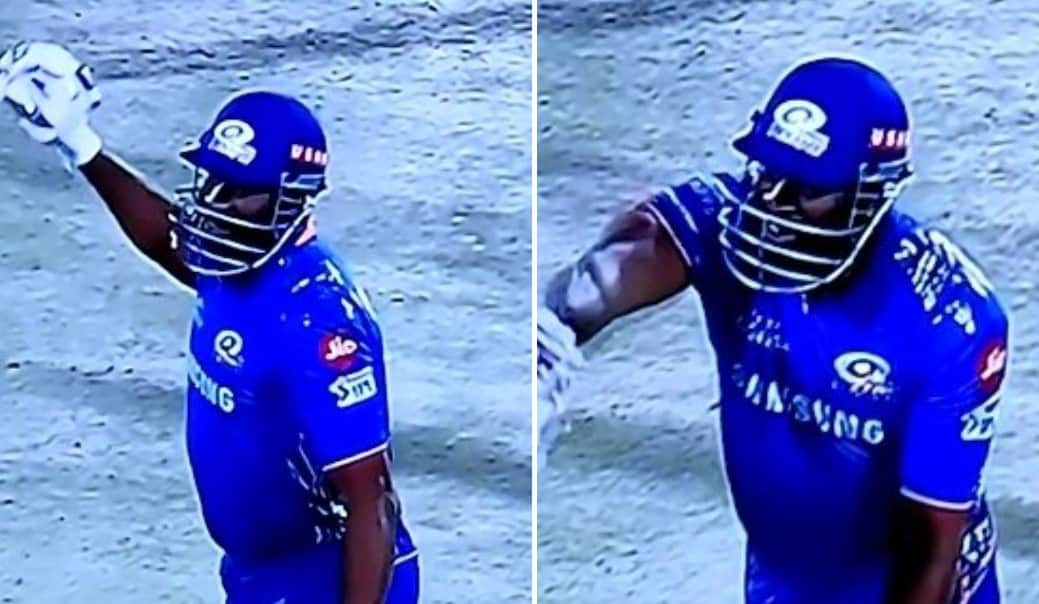 Finally, Mumbai Indian are back on the winning track after defeating Rajasthan Royals in their last game. After winning the toss, the skipper of Mumbai Indians, Rohit Sharma, decided to field first considering the playing conditions.
Jos Buttler and Yashasvi Jaiswal opened for Rajasthan Royals and gave a good start to the innings. They added 49 runs in the powerplay overs without any loss of wicket.
In the 8th over of the game, Rahul Chahar removed the dangerous Jos Buttler before reaching his fifty. He continued the same in his next over by removing the youngster Yashasvi Jaiswal after conceding a six off the previous delivery.
Then the skipper of Rajasthan Royals, Sanju Samson played a vital role with Shivam Dube and built a good partnership in the middle. They added 47 runs for the 3rd wicket partnership before Samson was cleaned by the New Zealand-based cricketer Trent Boult.
Shivam Dube followed his skipper in the next over bowled by Jasprit Bumrah as the left-hander tapped the ball back to the bowler which ended in a simple catch.
At the end of the first half, Rajasthan Royals posted a quite challenging total of 171 runs on the board. Once again Jasprit Bumrah showed that why he is called the best bowler by conceding just 15 runs in his spell and picked up a wicket as well.
Besides, the swashbuckling batsman Kieron Pollard has done a hilarious thing during the 19th over of the game bowled by Chris Morris. The ball hit the helmet of the big man and started to run away towards the boundary rope when Pollard showed something hilarious on the field.
Watch the video here:
Pollard - the most entertaining player of IPL 😂😂 pic.twitter.com/vycT4nSIUp

— ribas (@ribas30704098) April 29, 2021

Summary of the second innings:
Rohit Sharma and Quinton de Kock came to the crease to chase the target posted by the opposition. Chris Morris once again proved his worth by sending the hitman back to the dressing room for 14 runs.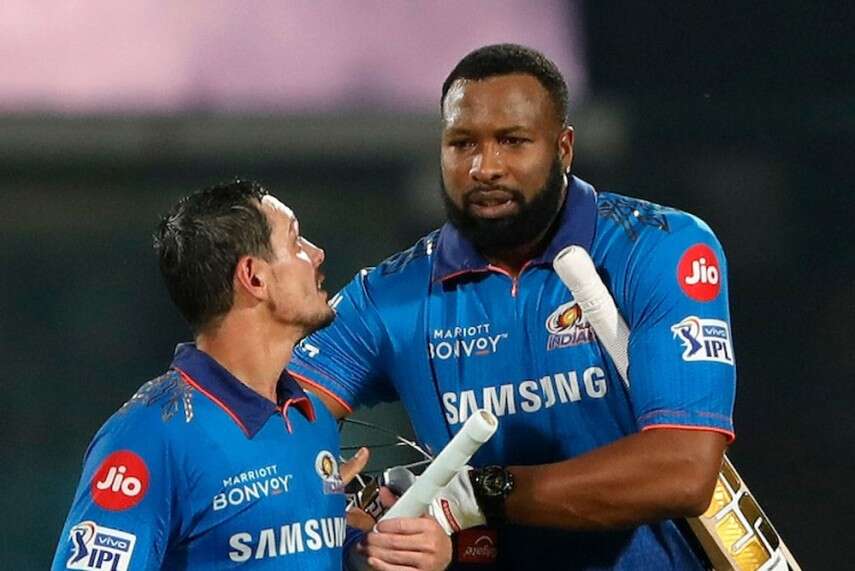 Also Read: Twitter reacts as Rahul Chahar gives an unusual send-off to Yashasvi Jaiswal against RR
Then, the South African pacer removed Suryakumar Yadav in the 10th over of the game. However, Quinton de Kock stood strong on the other end and smashed the likes of the opposition bowlers all around the park.
Krunal Pandya joined the left-hander after Suryakumar Yadav and built a vital partnership in the middle. Sanju Samson handed the ball to Mustafizur Rahman as he cleaned the stumps of Krunal Pandya and returned with the numbers 39 from 26.
Kieron Pollard played a quick cameo and finished the game in favour of the Mumbai Indians. Now, the Mumbai Indians have to face Chennai Super Kings which is the greatest rivalry of the Indian Premier League.
See the reaction of the fans:
Pollard is one of the Most entertaining guys in the IPL.

His Reactions are just Hilarious 😂#Pollard #MIvsRR #RRvsMI pic.twitter.com/AENlrHgdfb

— ᴍᴏʜɪᴛ𝟒𝟓 (@MohitRohitian) April 29, 2021
Kieron Pollard's reaction was epic😂😂

📸: Disney+Hotstar VIP#MIvRR #MI #RR #IPL #IPL2021 #KieronPollard pic.twitter.com/QZGEY52JD4

— CricTracker (@Cricketracker) April 29, 2021
Never short of entertainment with Pollard at the crease 😛

— Mumbai Indians (@mipaltan) April 29, 2021
Greatest entertainer of the ipl😂 pic.twitter.com/MDv3Om80k2

— JuiceSprite Boobrah (@Yorker_Gawd) April 29, 2021
Guests in my house, me from my bedroom:#RRvsMI #ipl20 #KieronPollard pic.twitter.com/BKWQJF5Ht2

— Deepak Karkera (@deepak_karkera) April 29, 2021
"'#மேட்ச்'க்கு நடுவுல, அப்படி எத விரட்டிட்டு இருக்காரு இவரு??.. ஆனாலும், இந்த #பொல்லார்ட் 'சேட்டை' புடிச்ச ஆளு தான்யா.." 'வைரலாகும்' #வீடியோ!!https://t.co/nwgVfbVYAq#Pollard #MumbaiIndians pic.twitter.com/zs1iYkSwNA

— Behindwoods (@behindwoods) April 29, 2021
My classmates fighting in the class.
Me : Maar maar usko..khopdi tod bkl ka!!!#MIvsRR #Pollard pic.twitter.com/oNSS3AbFp1

— Don't Panic! (@sarcasterrk) April 29, 2021
Here it is
Pollard has power to hit a ball by hitting in air 🙃😂 #MIvRR #pollard pic.twitter.com/wxwRy2ZePP

— Ishwar waghmare 🇮🇳 (@iamtigerkiller) April 29, 2021
சேட்ட‌ புடிச்ச‌ பையன்‌ சார் 😻#MIvsRR #RRvsMI #Pollard pic.twitter.com/0Y9hHYFdc6

— Tнᴀʟᴀ_Kᴀιʟᴀsн (@THALA6072531122) April 29, 2021
Love him or hate him cant ignore his funny side when he is furious waving the ball which is going to the boundary rope is hilarious 😂😂😂😂 @KieronPollard55 the entertainer #RRvsMI #Pollard #IPL pic.twitter.com/0g1u526uul

— A.V.SUBASH (@AVSUBASH) April 29, 2021