Haris Rauf will play county cricket while Lahore Qalandars signs a contract with Yorkshire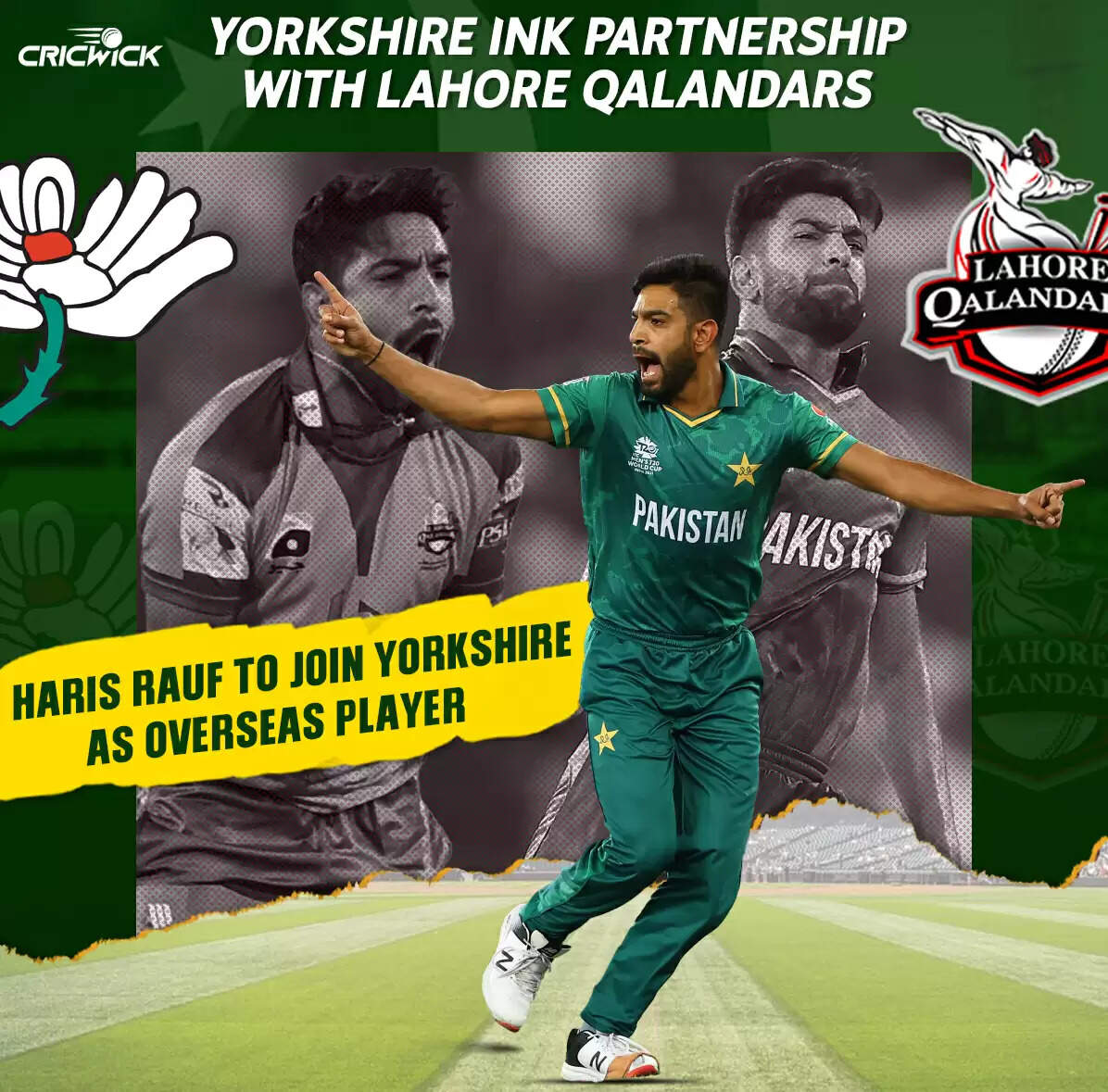 Yorkshire has signed Pakistani fast bowler Haris Rauf as part of a new alliance with the Lahore Qalandars Twenty20 franchise.
Lahore Qalandars on Tuesday announced a formal partnership with the Yorkshire County Cricket Club aimed at raising cricket standards and helping children train better from an early age.
The pairing of the two clubs aims to enable mutual learning, development and support at all levels and a commitment to developing more accessible avenues to cricket for aspiring players from all walks of life in Yorkshire.
The partnership includes:
A player exchange program that allows international players to learn from each other, starting with Haris Rauf moving to Yorkshire as a foreign player.
Scholarships for young, aspiring Yorkshire players traveling, training and playing in Lahore, including access to the Qalandars' world-class facilities as well as opportunities for young Pakistani youngsters to come to Yorkshire.
An opportunity for the Yorkshire County Cricket Club to learn and emulate from Lahore Qalandars' Players Development Program (PDP).
The chance for academy players from both teams to train and play under different conditions.
A friendly match between the two teams on January 16, 2022 in Lahore in the world-famous Ghaddafi Stadium.
The Qalandars have set a strong precedent when it comes to running effective player exchange programs, with successful partnerships with several Australian Big Bash League teams allowing a number of exchanged players to demonstrate their international ancestry.
The first iteration of this exchange program will be the entry of Haris Rauf of the Qalandars to join the Yorkshire County Cricket Club as a foreign professional for a period of the 2022 season.
Another key element of this partnership is the opportunity to learn from Lahore Qalandars' Player Development Program (PDP). The PDP was invented to inspire young people in Pakistan and to provide a platform for young aspiring players to showcase their undiscovered talent. Each year, the franchise shortlisted over 150 players, providing them with essential equipment and offering them the opportunity to play a nationally broadcast tournament.
It provides a blueprint for nurturing cricket talent while reducing the barriers to entry. By scouting for talent across Pakistan, this talent trail has successfully leveled the playing field, unearthing local talent, and providing opportunities for young people who might otherwise not have considered the sport.
Read More Cricket News | England's Jofra Archer will miss the West Indies Series after the recent setback
Over three seasons, the PDP has worked with nearly half a million young people across Pakistan through cricket studies, producing some of Pakistan's most notable players, as well as many who have no experience of formal cricket to play in the Pakistani Super League. The Yorkshire County Cricket Club will now work with the Qalandars to learn from its expertise in identifying and nurturing local talent from all backgrounds, with the aim of creating a similar all-inclusive program and raising the barriers to entry for young people across the world Yorkshire decrease to cricket.
The partnership between YCCC and Lahore Qalandars will open with a friendly game between the two teams on January 16, 2022 in Lahore after last year's game Lahore Qalandars against MCC. This game gives Yorkshire players the opportunity to meet their Qalandars peers and lay the groundwork for knowledge sharing between the two clubs over the next few years.