Richie Berrington was named Scotland's new captain
Updated: Jun 27, 2022, 21:20 IST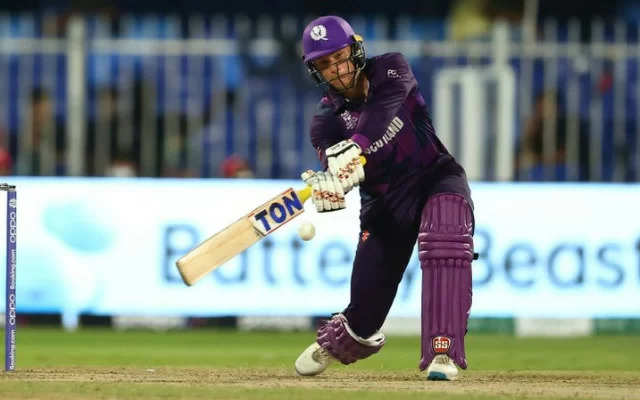 Richie Berrington, a Scottish batter, has been elected the new captain of Scotland following Kyle Coetzer's resignation a few days before. The coaching staff selected Berrington to be the team's captain after consulting with senior players and Cricket Scotland's interim head of performance.
The 35-year-old, who was born in Pretoria, South Africa, has played in more ODIs and T20Is than any other player for Scotland. He has also served as Coetzer's vice-captain on a few occasions. Both have been included in the squad for the team's forthcoming home tri-series against Nepal and Namibia, which gets underway on July 10. Shane Burger, the team's head coach, thinks he is the ideal candidate for the position.
"His stature not only in the Scottish game but world cricket makes him a fitting appointment," Burger was quoted as saying by the BBC. "We have a leader in Richie that everyone can be proud of."
Berrington was a member of the Sri Lankan and Australian teams at the Under-19 World Cups in 2006 and 2015, respectively. He played in 92 ODIs and 74 T20Is after making his debut for his country against Ireland in Aberdeen in July 2008. In 154 innings in the two forms, he has amassed 4,189 runs at an average of close to 32 and claimed 60 wickets in 98 innings.
With 92 games played thus far since the start of T20Is in 2010, Berrington now holds the record for a team's longest streak of consecutive games played. With 814 runs in 19 innings in the ongoing ICC Men's World Cup League 2, he is now fourth on the list of series with the most runs scored.
"We've had a fantastic leader in Kyle, who has been a great ambassador for our sport and I have learnt a lot under his leadership," said Berrington. "I feel incredibly honoured and privileged to lead this team and represent my country. Having come through the Scottish system from a young age, I'm very proud to take on the role of men's captain." For the upcoming tri-series, Matthew Cross will be Berrington's deputy.